UCSF ChimeraX
UCSF ChimeraX (or simply ChimeraX) is the next-generation molecular visualization program from the Resource for Biocomputing, Visualization, and Informatics (RBVI), following UCSF Chimera. ChimeraX can be downloaded free of charge for academic, government, nonprofit, and personal use. Commercial users, please see ChimeraX commercial licensing.
ChimeraX is developed with support from National Institutes of Health R01-GM129325 and the Office of Cyber Infrastructure and Computational Biology, National Institute of Allergy and Infectious Diseases.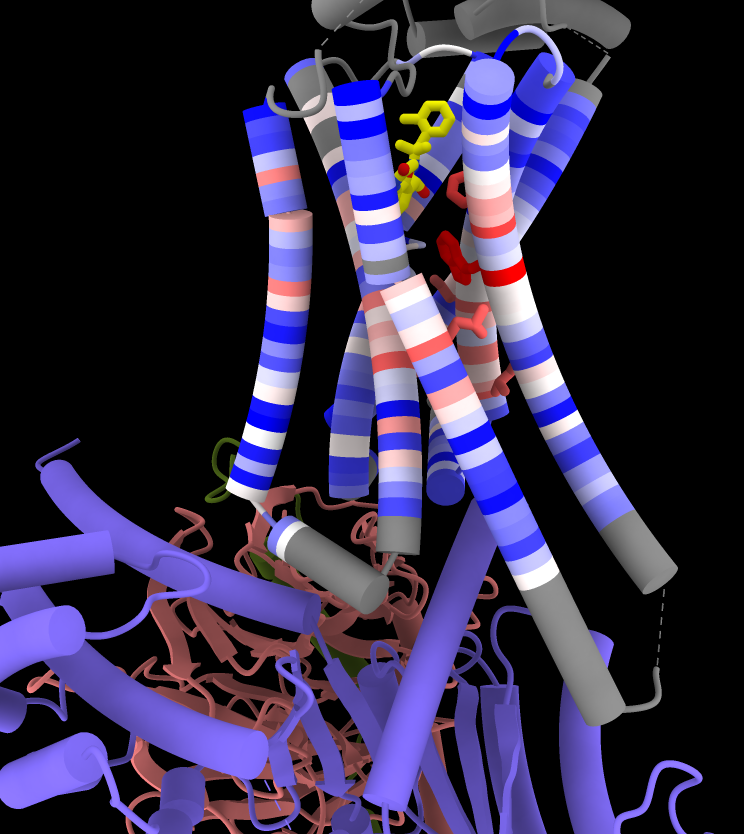 Atomic structures, including cartoons and molecular surfaces, can be colored by the conservation in an associated multiple sequence alignment. The figure shows a structure of the β2-adrenergic receptor signaling complex (PDB 3sn6) with receptor cartoon colored blue→white→red from least conserved to most conserved. The β2-adrenergic receptor is a member of the class A G-protein-coupled receptor superfamily. Conservation was calculated from a superfamily alignment from PASS2 using the entropy-based measure from AL2CO (included with ChimeraX courtesy of Pei and Grishin). The sequence alignment and step-by-step instructions for making this image are given in the Coloring by Sequence Conservation tutorial.
More features...
---
The outer-membrane protein CymA admits bulky molecules into the periplasmic space of Klebsiella oxytoca. Here, CymA (PDB 4d5d chain A) is depicted in a style reminiscent of a diagnostic X-ray, with transparent molecular surface and β-strand "ribs" in white. The protein has ingested α-cyclodextrin (top) and β-cyclodextrin (bottom), bound at the entry site and near the exit, respectively. Cyclodextrin carbon atoms are shown in blue-gray and oxygen atoms in brick red. For image setup, see the command file xray.cxc.
---
---
About RBVI | Projects | People | Publications | Resources | Visit Us
Copyright 2018 Regents of the University of California. All rights reserved.