UCSF ChimeraX
UCSF ChimeraX (or simply ChimeraX) is the next-generation molecular visualization program from the Resource for Biocomputing, Visualization, and Informatics (RBVI), following UCSF Chimera. ChimeraX can be downloaded free of charge for academic, government, nonprofit, and personal use. Commercial users, please see licensing.
ChimeraX development is supported in part by grants from the National Institutes of Health (currently R01-GM129325, previously P41-GM103311).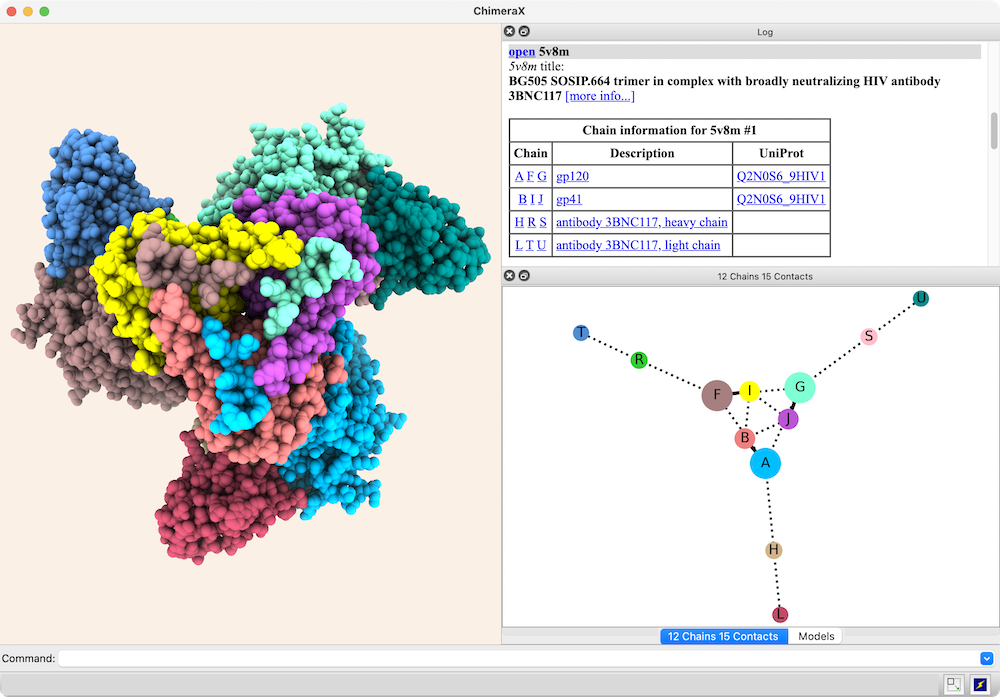 Chain-chain interfaces can be identified by buried surface areas and displayed as a network diagram with the interfaces command. In the diagram, nodes (circles) represent chains, larger for greater surface areas, and edges (lines) between nodes represent chain-chain interfaces (default ≥ 300 Å2 buried area). Dotted lines represent interfaces smaller than half the size of the largest in the structure. Diagram context menus enable a variety of actions, such as "exploding" the structure by moving chains apart, hiding all but the chains in contact with a given chain, and showing a more detailed plot of the residues forming a given interface.
The structure is an HIV envelope glycoprotein trimer bound by three copies of a broadly neutralizing antibody (PDB 5v8m), with chain information shown in the Log. Glycosylations (not displayed) were included in the surface area calculations. For setup, see the command file trimer-network.cxc.
More features...
---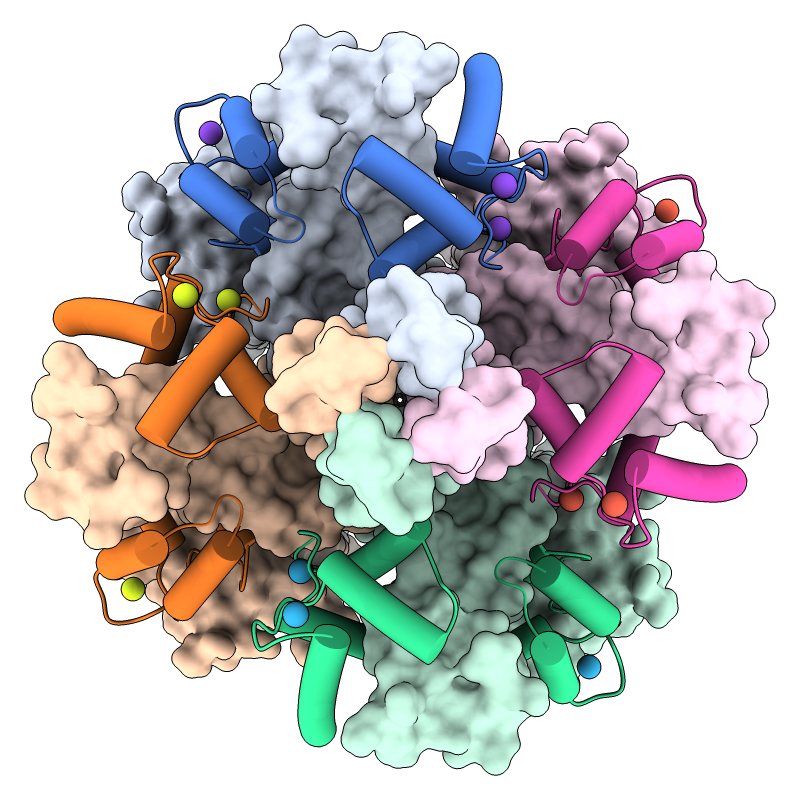 KCNQ1 is the pore-forming subunit of a cardiac potassium channel. It binds to calmodulin, and mutations in either of these proteins can cause congenital long QT syndrome, a dangerous propensity for irregular heartbeats. In the image, a structure of the KCNQ1/calmodulin complex (PDB 5vms) has been assembled into the native tetrameric form with the sym command. The view is from the cytoplasmic side, with KCNQ1 shown as surfaces, calmodulin as cartoons, and calcium ions as balls. A pastel palette from ColorBrewer has been used to color the surfaces, darkened with color modify for the cartoons, and "rotated" 45° in hue for the ions. See the command file colormod.cxc.
---
---
About RBVI | Projects | People | Publications | Resources | Visit Us
Copyright 2018 Regents of the University of California. All rights reserved.