Volume Tracer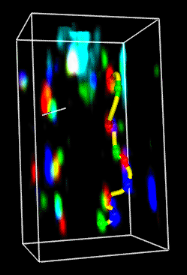 Volume Tracer allows interactive placement of markers within volume data displayed by Volume Viewer. The markers can be labeled and connected by smooth, interpolated paths, and paths can be stacked to form a surface. Markers can also be placed, moved, and connected in arbitrary ways to build conceptual models independent of any volume data. Markers and related parameters are included in saved sessions. See also: Volume Series, vop ridges, shape tube, mask, measure, meshmol
This tool was initially designed to trace fluorescently labeled chromosomes in light microscope data and protein backbones in cryoelectron microscope density maps.
A marker is a sphere with an associated position, radius, and color, implemented in Chimera as an atom.
A marker note is a text annotation associated with a marker, implemented as an atom label.
A link is a connection between markers, implemented as a bond and displayed as a cylinder with user-specified radius and color.
A marker set is a named collection of markers and links, implemented in Chimera as a molecule model.
Multiple marker sets can be present, but only one at a time can be the active set. The Marker set menu shows the name of the active set. Various menu operations apply to the active set, and newly created markers and links are added to this set.
A marker file includes marker set name(s), marker positions, marker annotations, links, colors, and radii.
There are several ways to start Volume Tracer, a tool in the Volume Data category (including from the Volume Viewer Tools menu).
VOLUME TRACER MENUS