UCSF Chimera is a program for the interactive visualization and analysis of molecular structures and related data, including density maps, trajectories, and sequence alignments. It is available free of charge for noncommercial use. Commercial users, please see Chimera commercial licensing.
We encourage Chimera users to try ChimeraX for much better performance with large structures, as well as other major advantages and completely new features. ChimeraX includes a significant subset of Chimera features (with more to come, see the missing features list) and is under active development. Users may choose to use both programs, and it is fine to have both installed.
Chimera is no longer under active development, and is only updated for critical maintenance. Chimera development was supported by a grant from the National Institutes of Health (P41-GM103311) that ended in 2018.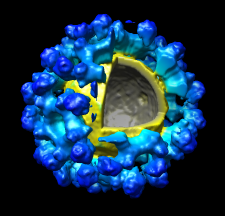 Chimera's Volume Viewer displays three-dimensional electron and light microscope data, X-ray density maps, electrostatic potential and other volumetric data. Contour surfaces, meshes and volumetric display styles are provided and thresholds can be changed interactively. Maps can be colored, sliced, segmented, and modifications can be saved. Markers can be placed and structures can be traced. The accompanying image shows a density map of Kelp fly virus from electron microscopy colored radially and with an octant cut out.
(More features...)
---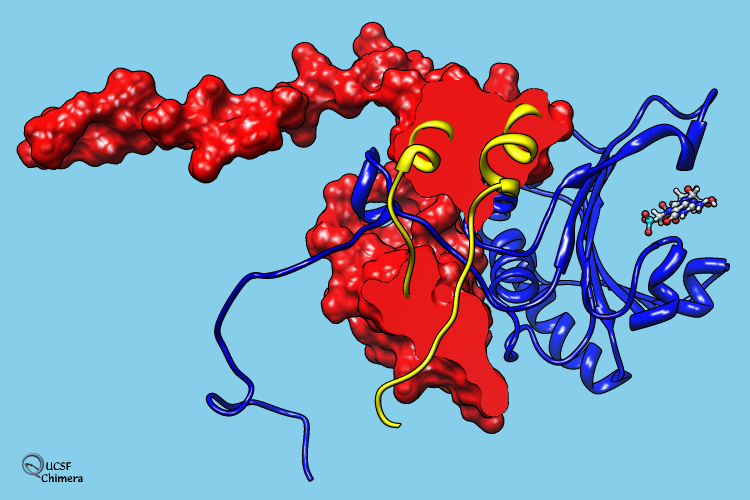 Eukaryotic initiation factor (eIF) complex (from Protein Data Bank entry 1rf8) in which eIF4E, shown with blue ribbons, is completely encircled by eIF4G, shown with yellow ribbons and red molecular surface (image creation details). (More samples...)
---
About RBVI | Projects | People | Publications | Resources | Visit Us
Copyright 2018 Regents of the University of California. All rights reserved.